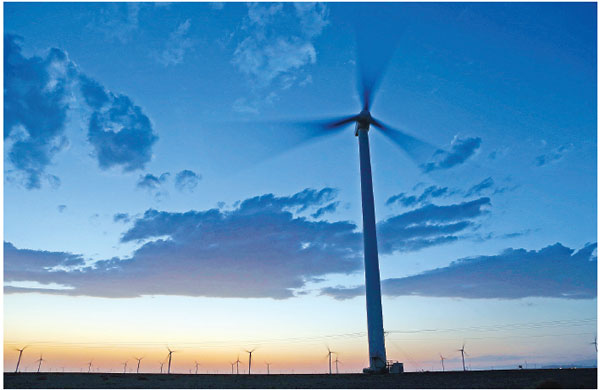 A wind turbine system generates energy in Northwest China's Xinjiang Uygur autonomous region. [Photo/Xinhua]
Mapping out the most appropriate pathway toward carbon neutrality is challenging for any of the approximately 30, mostly industrialized, nations committed to doing so by the middle of this century.
However, the effort needed is far outweighed by the threat to the environment and economies worldwide if no action is taken.
China's recent pledge to become carbon neutral by 2060 not only displays state social responsibility, but also has the potential to contribute significantly to the achievement of global climate goals. Chinese companies, backed by science-based targets and nature-based solutions, are expected to swiftly transition to sustainability, which can encourage other developing nations to take similar actions.
It is no secret that China, a populous country with unbalanced natural resources, has evolved into a green energy super warehouse to prevent extreme disasters caused by catastrophic climate failure. Businesses and communities are increasingly aware of the "green is gold" concept - some have implemented precautionary measures and taken adaptive steps to reduce any potential climate risks. Others still have a long way to go in the pace and intensity of their transition, due to cost-based decision-making challenges.
Businesses need to consider climate risks and possess a carbon-conscious mindset incorporated in their decision-making portfolios, just as when they consider the risks of asset allocation, information security and supply chain management. A systematic climate approach, although very complex, has also produced many emerging opportunities, including the potential for risk and cost reduction.
For instance, the World Economic Forum's latest New Nature Economy Report notes that three-fourths of global crop production - valued at from $235 billion to $577 billion annually - is either totally or highly dependent on insects or other species pollination. Clearly, a soft commodity trader with climate and biodiversity-positive supply chains will significantly reduce value chain risk compared with a trader who does not.
It is also believed that China's vast investment in clean technology will both massively reduce emissions and increase the nation's GDP by 5 percent in the coming decade. The increased demand for clean energy and related technology supplies will also create another positive spillover effect-a drastic decrease in the global average cost of these, which will enable more developing nations to embrace a low-carbon development model.
While China's economy, the world's second largest, continues to dramatically rebound from the COVID-19 pandemic, third-quarter economic growth has not met market or economists' expectations. In response to shrinking global market demand, China is anticipating a "dual circulation" economy with a major focus on domestic circulation, fostering consumption and technology advancement. Nearterm achievement of the emissions reduction goal is, therefore, facing difficulties amid other emergent challenges, such as food and energy security.
Fossil fuel dependency and energy transition may pose challenges for many cost-sensitive Chinese companies aiming for a green development model. The World Economic Forum, as a public-private cooperation facility, is ready to empower companies to leverage public green financial mechanisms to deliver their contribution to China's carbon neutral commitment.
The upcoming China Business Roundtable offers industrial leaders the opportunity to take first-mover advantage and partner with financial institutions to formulate collective actions toward carbon neutrality goals. Capital markets have, for some time, faced considerable climate risks and overpriced commodities, while investors are now increasingly aware of the reverse incentives needed by financial systems to accelerate their green transition in order to avoid risks caused by asymmetric information disclosure. Chinese businesses with positive climate targets and overstretched capacities are therefore encouraged to ride the green finance mechanism wave in the future.
Achieving carbon neutrality cannot be done through industrial reduction alone. Systematic approaches guided by nature-based solutions also must be considered, as these help guarantee the minimal intervention of environmental services toward additional simultaneous targets such as food safety, water and energy security, biodiversity conservation, supply chain resilience, land use management, and ocean exploration.
The slightest change in biodiversity losses can result in a butterfly effect of tremendous carbon storage outflow. Our land-use models, food systems and poverty alleviation plan also deeply reshape the carbon storage capacity landscape. More critically, food security and combating hunger is an important sustainable development goal that all nations should address with effective measures.
China, on its road to being a carbon neutral nation by 2060, is motivated by ecological civilization strategies. It is encouraged to practice nature-based solutions and expected to mobilize collective action with public and private stakeholders.
It is also suggested that China adopt integrated methods with intervention points not only on industrial emission reduction and carbon sinks, but also on carbon capture through biodiversity conservation, change of food production and consumption patterns, ecosystem restoration, greening of supply chains and other agendas.
Carbon neutrality by 2060 is an exciting target for China, and one that can demonstrate to the world a transformative shift to sustainability, guided by the nation's 14th Five-Year Plan (2021-25).
Justin Adams is executive director of the Tropical Forest Alliance and co-head of the Platform for Accelerating Nature-Based Solutions at the World Economic Forum. Zhu Chunquan is head of Nature Initiatives and the Tropical Forest Alliance of China at the World Economic Forum's Beijing Representative Office.
This op-ed originally ran in China Daily here.